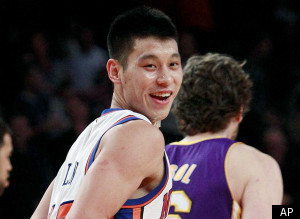 While the NBA season started late, I still haven't seen a single game. I've only peripherally been aware of the Knicks' sudden improvement due to the addition to their starting roster of a Chinese American player named Jeremy Lin. They had had a mediocre season, losing more than they won, and suddenly added Lin to the roster and they've won four of four. Lin's 6'3" and only 200 lbs. I heard an interview with him on NPR this morning where he stated that he was not a freakishly good athlete, but was clever in reading defenses and setting up teammates with good passing. He's also not good in one-on-one. He's a team player. The Knicks beat the LA Lakers last night with 38 points from Lin. That's a pretty impressive number. We haven't had anyone on the Knicks score that many points since the old days of Patrick Ewing.
How will Spike Lee react to this new addition to the Knicks?
Does he consider it to be the right thing for the team?
Lin grew up in Palo Alto and led his high school team to an all-California championship, then played at Harvard and was a bench-sitter for the Golden State Warriors until about a month ago. When he was picked up by the Knicks he didn't expect to make the team permanently and has been sleeping on his brother's couch. He got his chance with the Knicks last week after they played another listless game, and suddenly they began to hit hoops and win.
But there's yet another anomaly about Lin: he's Christian!
According to Wikipedia:
"Lin grew up in a devout Christian family and would one day like to be a pastor who can head up non-profit organizations, either home or abroad.[105][38][106] He has also talked of working in inner-city communities to help with underprivileged children.[91]"
I think we should all pray for him.