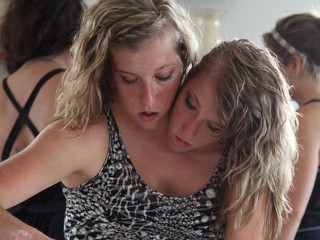 I have a huge headache and am completely out. However, with enough Tylenol and Nyquil I can sleep and even dream and drift along with the TV at times.
Last evening there was some bizarre show on NGeo in which a British man and midget were traveling in Thailand and they met Siamese twins at a circus. They themselves joined the circus as curiosities.
To an extent that's aesthetics today. If it's novel it's good.
Novelties.
And if you're a novelty you can be "famous."
Last night I went to see the Marvelous Burt Wonderstone with Riikka. It's about several magical acts competing for spots at Las Vegas. Jim Carrey's character puts a drill into his forehead. People cheer. Steve Carrell's duo knocks out the audience and transports them from the theatre into an open field facing a sunset.
There wasn't anything beyond amazement. And that, without a deeper hermeneutic tradition, is all the aesthetics offers. No ethics.
No wisdom.
Just amazement.
Looking for a deeper tradition feminists Marxists and ethnic studies people have turned to Marxism for an interpretive tradition. RGC has hit the academy. It has spread everywhere to fulfill the need for an ethics. If it helps the poor, women, or minorities it is now a good text.
My own one-man movement has been to ask if there isn't a deeper and better tradition called Lutheranism. Naturally the Marxists are incensed. Partially because Christianity and other religions have not always been the best toward RGC. There are resources inside Christianity for RGC amelioration, but that's not all you'll find there.
Religious faiths arund the world are far deeper and more mysterious than the simplistic RGC beancounters would like. And way too deep for those who just want to laugh over midgets or something kinda new.
We need to go back to Aristotle, and to Greek religious life. And to see how it translates into Christian religious life. It's not an easy problem.